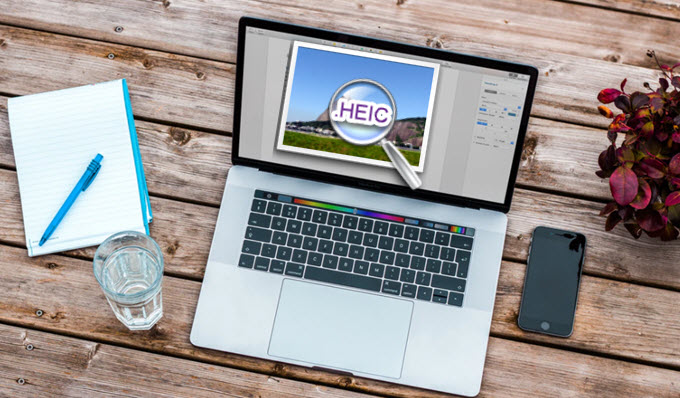 Along with the introduction of the new line of iPhones, Apple also decided to use a more compact way to save captured images. From now on the classic JPEG format will be replaced by the new HEIC format which means High Efficiency Image File Format, a new container format that was developed by the same team who created the widely used MPEG. This new format will provide a clearer picture in an even more efficient and smaller file size.
However, to open HEIC files on other devices such as your computer can be a little tricky, since there are no programs that can currently handle this format, including the majority of photo viewers as well as photo editors. For the meantime, here are some tips that you can use to view your HEIC files on PC, check them out as you move on to the rest of the article.
How to open/view HEIC files on PC
Use Apowersoft Photo Viewer
Very amazingly, now you can view HEIC files on your computer directly via Apowersoft Photo Viewer. This tool also allows you to view photos in other various formats such as JPG, PNG, BMP, TIFF, PSD, CDR, RAW, etc with a fast speed. Compared to the Windows photo viewer, it comes with a more intuitive interface and provides you more useful tools like photo editor, screen capture.
The process to use it for viewing HEIC is super easy.
Download and install the program on your computer.
Click "Open" and choose your HEIC file or simply drag a photo to its main interface.
You can choose to view the photo in 1:1 or full screen mode. If your photo is reversed, you may turn it right 90°or left 90°. You can also zoom in or zoom out the HEIC photo based on your needs.

Click "Main menu" > "Save as", afterwards you can save the HEIC image as JPEG, PNG, TIFF, BMP, etc format.
Change the settings
The first thing that you can do to avoid the issues regarding inaccessible images from your iOS device is adjusting some settings prior transferring the image that you have. You might not know that there are options like this unless you did a thorough review about your iOS device.
So to open HEIC in Windows, simply change the file transfer settings by going to "Settings" and then "Camera".
After that, look for "Formats" and then tap it. From here you can see a transfer options for Mac or Windows, now under it choose "Most Compatible".
Well, that's it. Every time you transfer a photo your phone will automatically convert it into a format that is supported by any computers.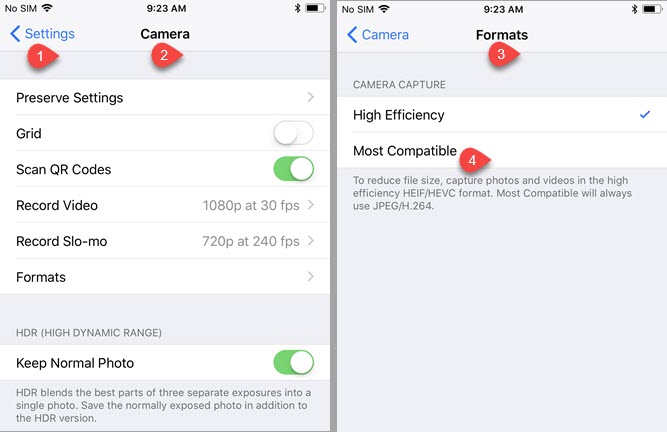 Use Free HEIC Converters
Apowersoft Free HEIC Converter
Apowersoft Free HEIC Converter is designed especially for you to convert HEIC file to JPG.
Without installing any plugin or sign up, you can just visit the free online service and upload your files to convert in one second.
If you have many HEIC files for viewing on your PC, you may batch upload and convert them instantly. It can keep the converted file with HD quality and will delete the files automatically after conversion.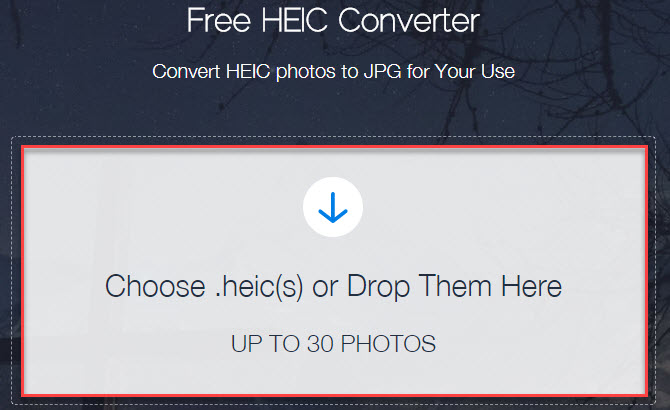 Tips: Probably you might worry about the safety about converting your HEIC photos via this free online converter. Just take it easy! It won't leak out any of your privacy and will surely delete the converted files after 12 hours. Moreover, if you don't like to use the online version for safety reason or anything else, you may download the desktop version from here.
iMazing HEIC Converter
Another way that you can use to view HEIC files is by using a reliable photo converter such as iMazing HEIC Converter. This is a free application that you can get directly from its webpage.
After installing this program, open it and then drag and drop the selected HEIC files into the program's interface. A thumbnail of the chosen files will be then shown.
Now select the format that you desire such as JPEG and then click on "Convert" to start the process.
The conversion will then start right away, however the speed of the conversion depends on the amount of HEIC files that you need to process.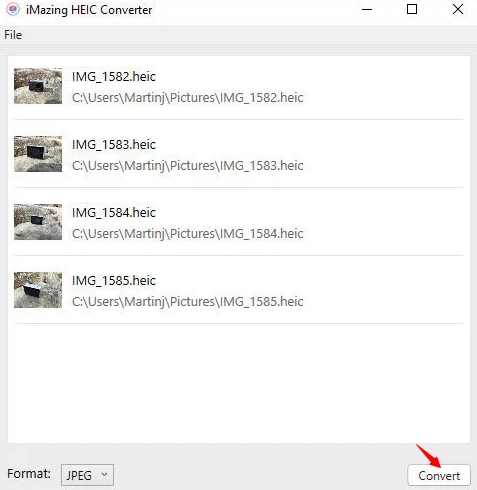 HEIC to JPG online converter
While if you prefer an online application to view HEIC on PC then you can opt to use this web-based program. This tool is an easy drag-and-drop image converter that you can use anytime you want as long as you have a computer and an internet connection.
Just transfer your HEIC files into the computer and then drag them directly into the tool's interface and it will be loaded and converted at the same time.
Once the files are uploaded completely, just click on the download button located on each file and you'll be able to save your newly converted JPEG file into your PC's hard drive instantly.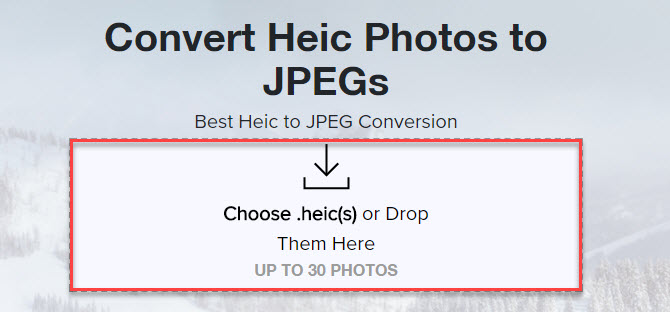 About HEIC
For those that don't know, HEIC is just another term for HEIF meaning that they are in fact referring to the same. This image format was also newly introduced by Apple but again they are not the one who created this technology but MPEG developers did. The main reason for choosing this type of file against the former is that it produces high quality vivid images while at the same time this format contains it in a smaller file size, allowing iPhone users to capture and store more images in higher quality. Moreover, this image format can also store numerous photos in one file such as a live photo. Plus it supports 16-bit color against 8-bit of JPEG, and can handle transparency like those case of a GIF files.
Yes, HEIC or HEIF is definitely a great format to use in spite of the export issues that some are currently experiencing. It's only few days since the official iOS 11 released so let's wait and see till the next iOS update and hope Apple finds a way to fix it.